Cadaver/ Deceased donor Kidney Transplant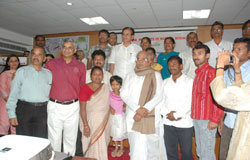 Shortage of organ for transplantation is the biggest challenge faced by the transplantologist all over the world to-day. There is more number of patients awaiting organ transplantation than the people who has successfully undergone transplantation. The best source of organ is the brain dead patient in hospital following severe head injury. Though number of such brain dead persons is very high but unfortunately the numbers of people willing to donate their organ after death are very few.
More than 100,000 persons develop end stage renal failure in India every year, who can be benefited by transplantation. But only about 4000 live donor operations are done annually mostly due to non-availability of human kidneys. Only 1-2 percent of of kidney transplants in our country is done using organs from cadaver donor. On the other hand about 100,000 persons with severe head injury due to road traffic accidents die every year in various hospitals in the country (which is the highest in the world) whose organ like kidneys, liver, heart, lungs, pancreas, corneas etc. can be used for the purpose of transplantation. These types of organ donors are known as CADAVER DONORS or DECEASED DONORS. Mostly due to lack of public awareness about usefulness of organ donation after death the cadaver organ transplantation programme has not been very successful in most countries including India. By donating organs after death we can save many lives. Think about it, discuss with your family and friends, discuss in your local community meetings or any other forum and make people aware about value of organ donations after deaths. This is the greatest gift one can give to a fellow human being.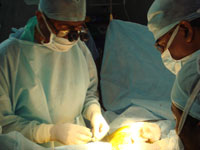 At Krishna Institute of Medical Sciences, Hyderabad we could perform more than 80 deceased donor kidney transplantation during last four years with satisfactory results and presently more than 200 patients are waiting for their turn to receive a kidney from deceased donor. In our deceased donor list we have a 18 month old boy (youngest deceased donor in the country) who died following head injury due to fall as well as a 79 years old man (oldest deceased donor in the country) who died following a massive brain hemorrhage .